More teams than ever before are remote or hybrid, and even teams that are back in the office together may have spent months to a year apart. No matter how your team is organized, it's important to spend time developing your team dynamic and forming relationships. How do you develop a team? There are thousands of team building activities, both in-person and virtual, designed to help teams bond, build camaraderie, and create a strong company culture.
What is the main purpose of team building?
The goal of team building activities is to create a more cohesive team that is on the same page. Through these activities, your team will increase communication among team members, showcase strengths and identify weaknesses in your team, improve motivation, increase trust, and practice collaborating. There are also financial reasons to invest in team building. For example, there are high costs associated with employee turnover and bonded teams have stronger employee retention.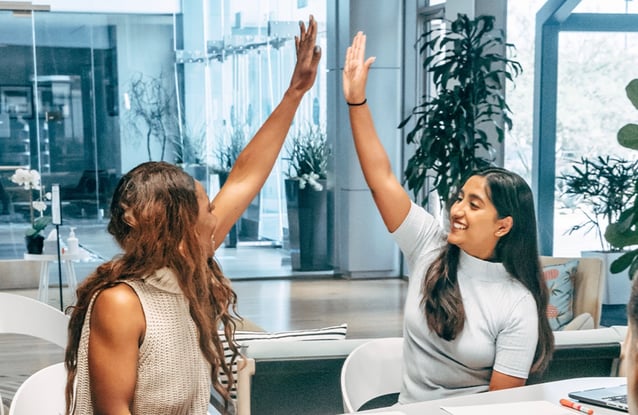 What are some good team building exercises?
It's important to remember that the goal of team building is collaboration. Some team building activities, such as scavenger hunts, sports, and game shows, have an aspect of competition. However, in these situations, people are still playing on teams and bonding with the people on their teams. Keep the stakes low so things don't get out of control and winning does not shadow the real goal—to learn to work better together.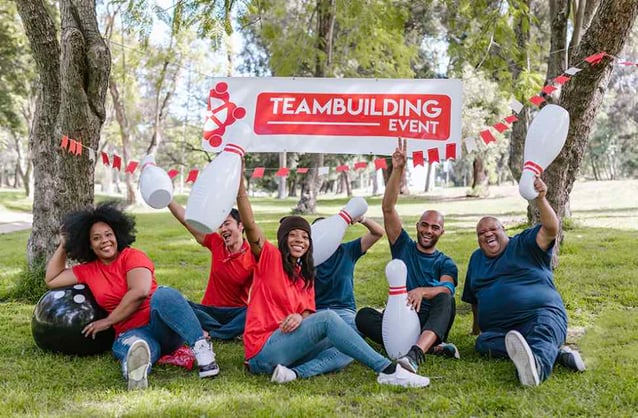 Where should you host a team building activity?
Get out of the office. And if you're thinking of just heading to the bar, keep reading. After-work happy hours are a fun way to get to know your team, but there are more unique (and intentional) ways to get to know each other.
Planning a team building event is a great opportunity to mix things up. Doing something outside of the workplace provides a new setting to practice these skills. A change of scenery is more likely to excite attendees who might be more stoked about going to a ropes course than heading to the board room. (And you don't want people to skip out on your event or they'll miss out on all the benefits, and fun.) A new location breaks the routine and can also disrupt the usual workplace hierarchy. Instead of being intimidated by the CEO, you may now be working alongside him to build a bridge faster than the other teams.
It's important to set a time for teams to put down their emails and to-do lists, and instead focus on team building. For your best return on investment, schedule regular team building events and even team building days. What is a team building day? It's an entire day where everyone spends time together. (We see the panic in your eyes. The postponed work will get done and spending the time bonding your team is as important as getting through your daily tasks.)

Though you might have done team building at summer camp or in school, you might be stuck wondering, what are fun activities for adults? We've got your back. Get started with these unique team building activities.
20 Unique Team Building Activities
Make Some Magic

While you probably won't learn to make your giant to-do list disappear in this class, your team can learn magic tricks from a real magician, virtually. Classes can host up to 500 people and some include all materials for the close-up magic tricks. (As far as we know, no rabbits or hats are provided, sorry!) Learning a new skill together is a great opportunity for team building. And now you'll all have new tricks for the next company talent show.

Escape the Room


During in-person escape rooms, teams have to work in close proximity to solve puzzles and clues to accomplish tasks that let them out of a room before time runs out. It's a great immersive game for analytical thinkers and puzzle lovers. But even if your team is remote, you can use the same skills for a virtual escape room. Instead of being in an actual room together, your team will work together from across the world to unlock rooms and uncover ciphers that will help your team solve the final challenge. Weve has two themed escape rooms-Space Escape and Murder on the Mystery Express.

Explore a Neighborhood on a Food Tour


Sharing a meal together is a great way to get to know someone, and food tours turn the bonding and exploration up a notch. During your culinary experience, your team will have one course at a few different restaurants. At, and between, each restaurant, your guide will share history about different foods and the neighborhood. Seating arrangements and mixed up at each spot so different people can get to know each other. Guides are also available to facilitate team building activities during the event. We bet your colleagues will have a hard time finding an issue with an afternoon spent eating, drinking, and bonding.

Root on the Home Team


Spend time cheering on another team. Get together and go to a local sporting event. If tickets to your major league match are too expensive, score cheap tickets to a minor league game. (Remember, though, there are usually group discounts if you buy a block of tickets.) Even if no one on your team is a big sports fan, there's a lot of opportunity to bond over cheering for the same team.

Rock Out During an Airband Competition


You don't need any musical skills for this team building activity. All you need is enthusiasm and willingness to get a little silly. Split everyone into groups of five or so. Provide each team a bag of rock star costumes, wigs, and props. Then give everyone a few hours to choose a song and create some choreography. Each band will perform their song as the crowd cheers wildly. If possible, set the (figurative) stage with concert lighting or book a bar or restaurant with a private room or literal stage.

Spend a Night (Or Day) at the Museum


Many museums around the world host nights at the museum, where only adults are allowed to visit after hours. Though that's a great after work hangout, you can get even more team building opportunities out of a museum visit. Go on a guided tour of a museum that includes storytelling workshops, team building activities, scavenger hunts, and fun guides.

Run Around During a Team Field Day


Remember splitting up into teams and competing in silly games for elementary school field day? Companies like The Go Game can help you recreate that fun. Get out of the office and get playing with a day of lawn games and friendly competition. Let your colleagues know their teams in advance so they can coordinate and wear team colors. Award prizes to the office three-legged race winners or cookie face champion. The Go Game also runs indoor game shows, outdoor scavenger hunts, and more.

Go Camping


Turn a team building day into a team building weekend. Plan a multi-day event (or single day if you're short on time) that feels like the summer camp of your youth. Hire experts to teach everything from archery to jewelry making to stargazing. Host an Olympics-style competition for your entire team. Think: old-school camp activities like tug-of-war. Going into the woods together is a great way for your team to connect without technology as a distraction.

Gather 'Round the Campfire


Even if you can't head to the woods together, you can still have a team campfire, remotely. All the supplies, including a campfire-candle, wood matches, and s'more ingredients will be sent and a facilitator/camp counselor will lead rounds of icebreakers, ghost stories, and games. (And yes, of course everyone will get to make a s'more or more!)

Compete in a Game Show Night


If your virtual team can't get together for a night of pub trivia, you can still get together for a virtual game show. Our hilarious expert hosts who will run a 60 minute game show filled with timely trivia, artistic challenges, music competitions, rapid-fire buzz-in rounds, and more. Each game is designed to appeal to all personality types including introverts, extroverts, analytical thinkers, and pop culture know-it-alls.

Take a Cocktail Class


Get shaking (and stirring) in an in-person or virtual cocktail class. If someone on your team is an expert mixologist, they can show off their skills. Otherwise, there are plenty of bartenders ready to help raise your spirits, and your knowledge of spirits. Try something like an egg white sour that people may not necessarily make on their own at home. While you're juicing, measuring, and mixing, your facilitator will share cocktail history and knowledge so your team will leave with more than just a drink.

Learn to Improvise


Here's a way to learn a skill that transfers into the workplace. Improvisation is used every day during presentations, sales pitches, phone calls, and more. Why not book an improv class for your team to practice those skills and also spend some time being silly together? Improv theatres teach both in-person and virtual classes. Even skeptics will be laughing and loosened up by the end of the class, and your team will leave with a stronger sense of group think.

Throw some Axes


Get together and go axe throwing. (Don't worry, all of the axes are being thrown away from your team members.) Axe throwing is similar to darts-everyone is aiming at a bull's eye. Indoor venues complete with food and drinks have popped up across the country. Everyone will get trained before starting (safety first!) so they'll get to learn a new skill together. It's a fun, friendly competition and even a stress reliever if your company is going through some difficult times. You can also book archery ranges for something similar.

Go Sail Away


Turn your work crew into a boat crew. Learn to sail together. Sailing requires all hands on deck (literally) and is a great way for your team to test their problem solving skills. These classes are good for both more experienced sailors and people whose only watercraft experience is floating in the pool. The experts will teach your team everything they need to know as each team member takes turns as crew member and ship captain.

Take On Trapeze


Calling all circus lovers: fly through the air with the greatest of ease after your team building trapeze class. It's unlikely that most (or any) people on your team are trapeze experts, so this is a great way to create a level playing field for learning a new skill. Plus, trapeze necessitates teamwork; someone has to reach out and grab your hand! Because heights can be scary for some people, check in on peoples comfort level before booking or find another role someone can take a part in from the ground-like being a supportive, cheering section.

Jump into the Shark Tank


No, you're not going shark diving...unless your whole team wants to interact with some big fish. For this team building activity, you're mimicking the reality show Shark Tank. Give everyone a week or so to create their own business pitch or a pitch for a new product, service, or improvement to your company. Have some executives or people outside of the company serve as judges. This is a great way for people to share their creativity, passions, and ideas and to appreciate those things in their teammates. Remember to award a prize!

Get Bouncing


There are not a lot of sports sillier (or more exhausting) than Trampoline Dodgeball. Get your team together for a fun game with low stakes and a lot of bouncing. Indoor trampoline parks like Sky Zone can be found across the country. Of course, your team can always play dodgeball without the trampolines at any park or gym.

Embrace Your Inner Bob Ross


Find your inner artist with a paint night that can be done virtually or in person. Either way, your team will get to show off their creative skills and learn some new technical skills. Head to a venue where all the supplies, and drinks, are provided or book an online event where supplies can be mailed to your team.

Break (and Bake) Bread Together


It's fun to share a meal together, but cooking a meal together is an even better way to practice teamwork. If your team is remote, that's okay! Cooking classes can be done in-person or virtually, with mailed ingredient kits. Your teammates will get a chance to show off their skills and learn new ones while creating something delicious.

Learn the Ropes


Spend‌ ‌some‌ ‌time‌ ‌up‌ ‌in‌ ‌the‌ ‌air‌ ‌with‌ ‌your‌ ‌team.‌ ‌‌Ropes‌ ‌courses‌ ‌‌and‌ ‌zip‌ ‌lines‌ ‌are‌ ‌a‌ ‌great‌ ‌way‌ ‌to‌ support‌ ‌each‌ ‌other‌ ‌and‌ ‌while‌ ‌getting‌ ‌out‌ ‌of‌ ‌your‌ ‌comfort‌ ‌zone.‌ ‌For‌ ‌most‌ ‌people,‌ ‌it's‌ ‌not‌ ‌every‌ ‌day‌ ‌that‌ ‌you're‌ ‌able‌ ‌to‌ ‌belay‌ ‌your‌ ‌colleagues‌ ‌and‌ ‌help‌ ‌them‌ ‌get‌ ‌through‌ ‌a‌ ‌challenge‌ ‌course.‌ ‌Skills‌ ‌that‌ ‌are‌ ‌practiced‌ ‌during‌ ‌ropes‌ ‌courses‌ ‌include‌ ‌confidence,‌ ‌leadership,‌ ‌problem‌ ‌solving,‌ ‌and‌ ‌empathy‌ ‌during‌ ‌physical,‌ ‌mental,‌ ‌and‌ ‌emotional‌ ‌challenges.‌ ‌Look‌ ‌for‌ ‌‌local‌ ‌camps‌ ‌‌which‌ often‌ ‌have‌ ‌facilitators‌ ‌and‌ ‌courses‌ ‌on‌ ‌site‌ ‌or‌ ‌even‌ ‌a‌ ‌local‌ ‌‌rock‌ ‌climbing‌ ‌gym‌‌ ‌as‌ ‌an‌ ‌weather-safe‌ ‌alternative.‌ ‌ ‌





How do you bond a team together? Play together. Use these ideas to create a stronger team and build your company culture.
Book your next team building event for in-person or remote teams from our experience library now.