Team Building Activities in San Francisco
Home of The First Go Game
Back in 2001, we ran our first cellphone-led team building scavenger hunt right here in San Francisco. And luckily it was a big hit. Ever since, we've been running games all over the city just about every single day.
GAME ZONE HIGHLIGHTS
Whether you're wanting to stay close to the office or conference center, or play tourist for the day and explore some of San Francisco's oldest and beloved neighborhoods, we have a game zone for you. And if you want to cover more, less, or just different ground during your team building activity, we can create a custom zone to meet your needs. Here are a few of our favorite places to play, with some ending venue options that work great for groups.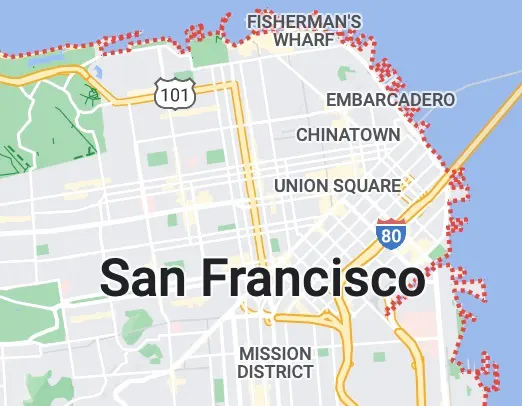 Stay close to the office and enjoy the views of the Bay Bridge while you explore the Embarcadero waterfront
Put down the shopping bags and hop on a cable car while you play in the square
See what South of Market Street is all about with our SoMa game zone
Home of the Beatnik poets, North Beach is one of San Francisco's most historically rich neighborhood
Give us your best seal impression as you wander around San Francisco's tourist heaven
Create your own awe-inspiring performances against a backdrop of some of the world's most inspiring urban art
The colorful streets of Chinatown are a hive of international activity and culture
If you want to host your team building event close to your office, by the beach, or near your favorite restaurant, we can create a custom Game Zone just for your group. Let's talk.
Our Favorite Experiences In San Francisco
We got our start here in the Bay (and a lot of our team still lives here), which makes in-person, on-site hosted experiences much more affordable. While most of our experiences can be played in person, here are a few of our favorites. To see the full list of games, click here.
"Our Game Producer was amazing and made the experience "magical" as we say here at Airbnb. Her attention to detail, ability to clearly identify needs and her overall insight, elevated the experience beyond expectations."
VIEW SAN FRANCISCO CASE STUDIES
Ready to play?
Request a demo or quote for your next event now