Birthday Party

hybrid, virtual, in-person
60 min
As low as $11 per person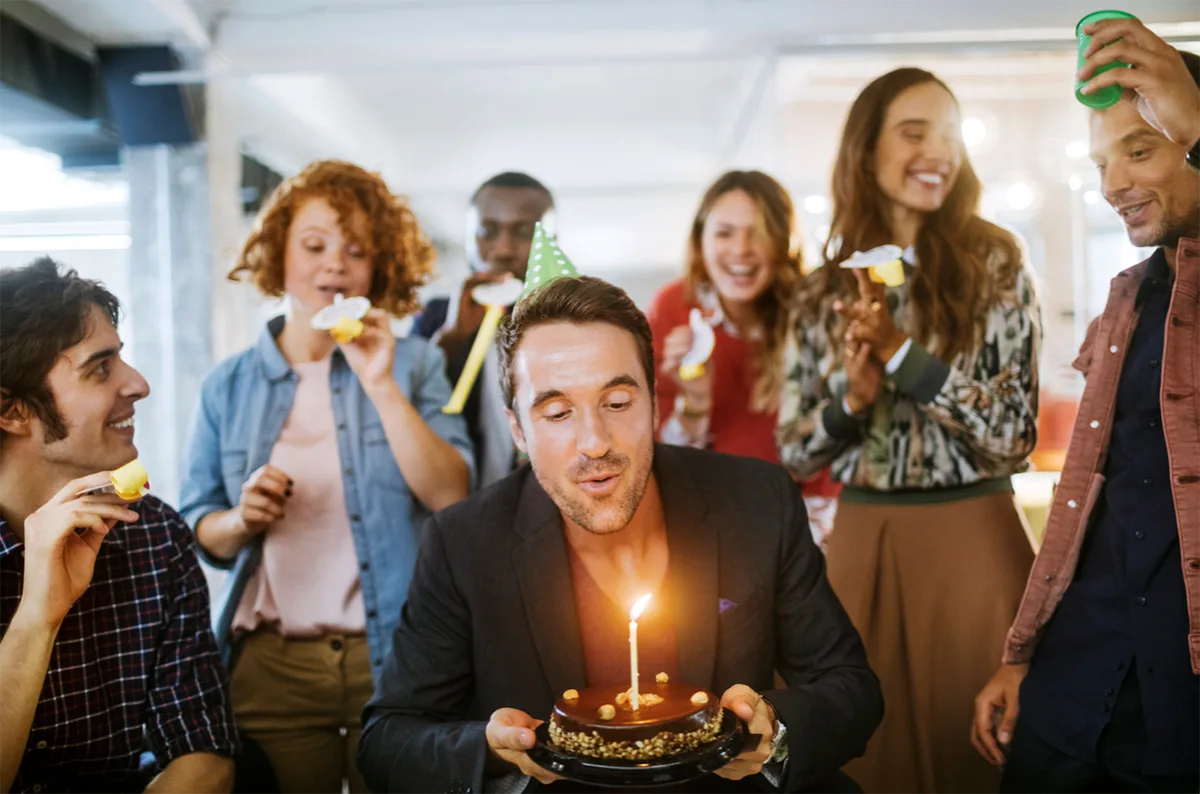 EXPERIENCE OVERVIEW
Get the cake and candles ready. Celebrate with a Birthday Party Game Show that's a combination of our classic and birthday-themed mini-games. Whether you're organizing an online birthday party or throwing a bash in person, mix it up a bit with the power of play! We've added a birthday theme to select rounds of our Game Show so everyone can share laughs, memories, and some friendly competition!
Book Your Experience
BIRTHDAY TRIVIA
How much did the world's largest birthday cake weigh? What is the least common birth date? Test your knowledge as you compete in a round of birthday-themed trivia, one of our birthday party games.
BIRTHDAY FUN FACT MATCH
Our fun fact match has been customized for an in-person or virtual birthday party. Learn more about the celebrant and other attendees in this fun mini-game. Do your best to guess what the birthday person will wish for when they blow their candles out. Have everyone submit their favorite memory of the birthday celebrant and then swap stories.
MANY ROUNDS OF FUN FOR EVERYONE
Play mini-games like Where in the World, Scavenger Hunt, Photo Booth, and Lip Sync Battle. Of course, there's an opportunity before the scores are revealed for everyone to sing Happy Birthday together.
On-Site Host
Let our fabulous hosts guide you through the range of mini-games. Your host will provide hands-on support from pre-planning to kickoff to completion.
On-Screen Host
Get your guests together in person and we'll join you on-screen. (We can even connect family or friends who can't make it in person!)
"Always an amazing time with Go Game! We've worked with you numerous times and it's never the same thing."
"This game brings people/teams together so quickly - and by the end, everyone is high fiving, laughing, and best of friends! Everyone had nothing but great things to say about this experience - thank you for everything!"
"The Game Show bought our staff closer together. It's hard getting back after the pandemic. The laughter was phenomenal. Everyone is still talking about the good time they had this morning. The atmosphere is light and airy this morning. We will be back again."
Blue Shield of California Classic Adventure Experience
The Go Game is my 'go-to' game! The level of fun that happens while playing one of their games is awesome and as a group everyone is guaranteed to have a blast! Our group was full of introverts and extroverts, but you wouldn't have known it while playing this game, everyone was having so much fun and really putting themselves out there with some of the challenges. It was nice to let our hair down and just be outside and away from work as a team and doing something that mostly didn't involve work. We got to see each other's creative sides and extend trust to one another when it came to answers to the trivia questions. All in all, a big win for the team, everyone left with HUGE smiles on their faces and commenting how much fun they had!

The Go Game has once again shown itself to be best in class! The Go Game team was upbeat, easy to understand, informative and friendly! This was the 2nd time I participated in a Go Game event and I enjoyed it just as much as the first time.
READY TO GET STARTED?
Talk with our sales team