Virtual Amazing Race

hybrid, in-person, virtual
45 min - 60 min
As low as $11 per person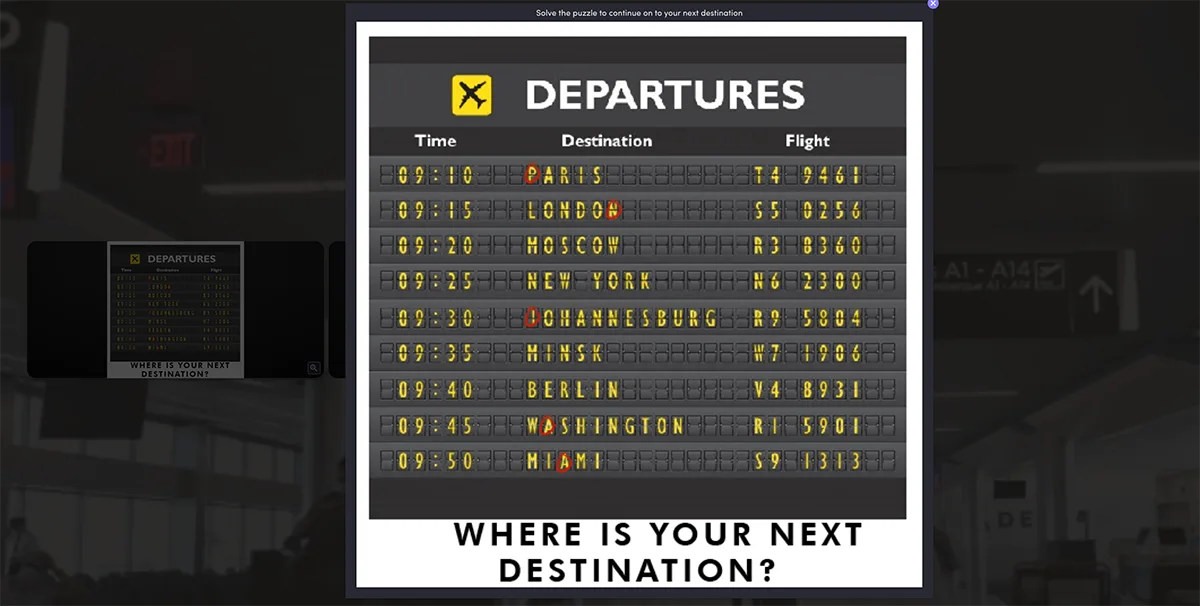 EXPERIENCE OVERVIEW
Race around the world from the comfort of your home or office, and tackle roadblocks, detours, and clues with your teammates. Based on the popular TV game show, The Amazing Race, this virtual round-the-world adventure features a live host and non-stop action. We'll break you into even teams, and together you'll solve missions, puzzles, and creative challenges and visit roughly 4-7 countries, all from your web browser or shared screen.
You can even add in some company trivia, to make the experience more customized and keep your teams on their toes.
Book Your Experience
THE EASIEST TRIP YOU'LL EVER BOOK
We all love adventure. And adding competition to that can take it to an 11. Our Virtual Amazing Race experience brings the two seamlessly together (and no one will have to shave their head, eat their weight in cow parts, or get a watermelon to the face). Throughout the event, teams will play mini-games, including Trivia, Brain Teasers, Sales Pitches, Lip Dubs, Guess Whos, Photo Booths, and Lightning Rounds. In the end, one team will be named the winner and get to take home the glory!
WATCH OUT FOR ROADBLOCKS
Inspired by the show "The Amazing Race," teams will come across roadblocks along their journey. In these moments, they will have to make a choice between two possible challenges ahead of them. Choose wisely, as each decision could be your gateway to victory.
PAY ATTENTION TO YOUR GUIDES
Players will watch videos from local guides, and recall details from the guide's life. There will also be trivia and puzzles based on each location to keep you and your teams on your toes.
On-Screen Host
Get your teams together in person and we'll join you on-screen.
On-Site Host
Let our well-traveled hosts guide you through the experience. Your host will provide hands-on support from pre-planning to kickoff to completion.
"Always an amazing time with Go Game! We've worked with you numerous times and it's never the same thing."
"This game brings people/teams together so quickly - and by the end, everyone is high fiving, laughing, and best of friends! Everyone had nothing but great things to say about this experience - thank you for everything!"
"The Game Show bought our staff closer together. It's hard getting back after the pandemic. The laughter was phenomenal. Everyone is still talking about the good time they had this morning. The atmosphere is light and airy this morning. We will be back again."
Blue Shield of California Classic Adventure Experience
The Go Game is my 'go-to' game! The level of fun that happens while playing one of their games is awesome and as a group everyone is guaranteed to have a blast! Our group was full of introverts and extroverts, but you wouldn't have known it while playing this game, everyone was having so much fun and really putting themselves out there with some of the challenges. It was nice to let our hair down and just be outside and away from work as a team and doing something that mostly didn't involve work. We got to see each other's creative sides and extend trust to one another when it came to answers to the trivia questions. All in all, a big win for the team, everyone left with HUGE smiles on their faces and commenting how much fun they had!

The Go Game has once again shown itself to be best in class! The Go Game team was upbeat, easy to understand, informative and friendly! This was the 2nd time I participated in a Go Game event and I enjoyed it just as much as the first time.
READY TO GET STARTED?
Talk with our sales team