College Game

in-person, hybrid, virtual
45 min - 60 min
As low as $11 per person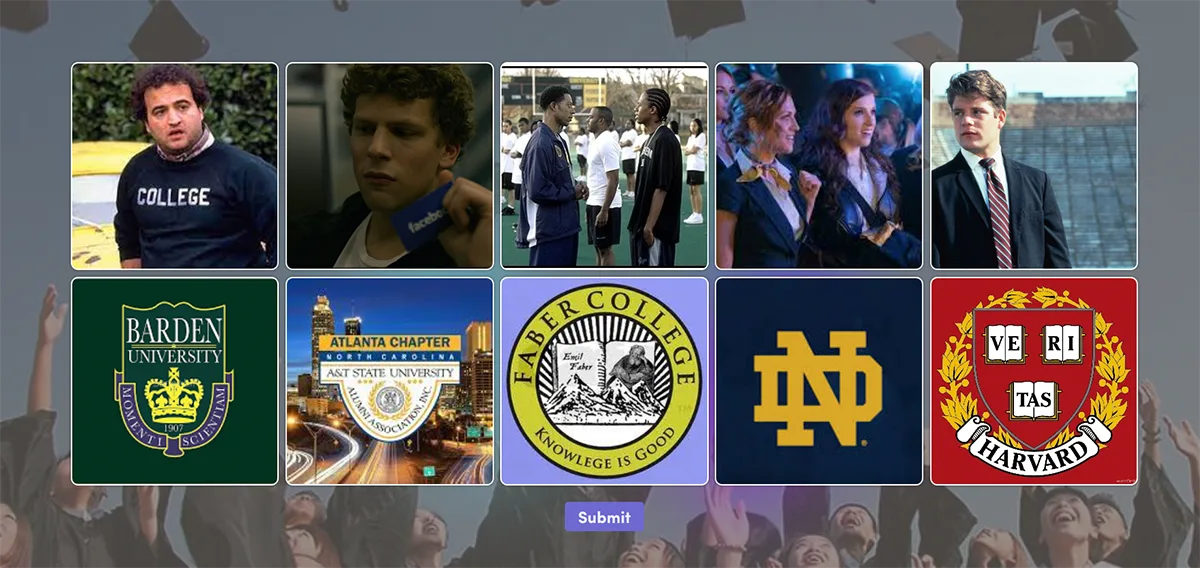 EXPERIENCE OVERVIEW
Tap into your school spirit with this College Game! Designed specifically for college students with age-appropriate trivia and internet culture-inspired content.
A great option for your college club or just friendly competition among your friends. Slide that in your DMs and Twitch it. (We CAN actually Twitch stream the game if you want to show off your skills).
Book Your Experience
GREAT FOR COLLEGIATE GROUPS
Gather your clubs, fraternities, sororities, and more. Or play together during freshman orientations to help students get to know each other.
PUT ON YOUR TEAM THINKING CAP
Name all the letters in the Greek alphabet! Name the Drake music video this meme originated from. Think quickly; your points depend on it.
GET CREATIVE WITH GIPHYS AND MORE
Recreate a famous work of art and pick the perfect GIF for the occasion to earn the votes of competing teams. Make it good, or just make them laugh.
On-Screen Host
Get your teams together in person and we'll join you on-screen.
On-Site Host
Let our charming and hilarious hosts guide you through the range of mini-games. Your host will provide hands-on support from pre-planning to kickoff to completion.
"Always an amazing time with Go Game! We've worked with you numerous times and it's never the same thing."
"This game brings people/teams together so quickly - and by the end, everyone is high fiving, laughing, and best of friends! Everyone had nothing but great things to say about this experience - thank you for everything!"
"The Game Show bought our staff closer together. It's hard getting back after the pandemic. The laughter was phenomenal. Everyone is still talking about the good time they had this morning. The atmosphere is light and airy this morning. We will be back again."
Blue Shield of California Classic Adventure Experience
The Go Game is my 'go-to' game! The level of fun that happens while playing one of their games is awesome and as a group everyone is guaranteed to have a blast! Our group was full of introverts and extroverts, but you wouldn't have known it while playing this game, everyone was having so much fun and really putting themselves out there with some of the challenges. It was nice to let our hair down and just be outside and away from work as a team and doing something that mostly didn't involve work. We got to see each other's creative sides and extend trust to one another when it came to answers to the trivia questions. All in all, a big win for the team, everyone left with HUGE smiles on their faces and commenting how much fun they had!

The Go Game has once again shown itself to be best in class! The Go Game team was upbeat, easy to understand, informative and friendly! This was the 2nd time I participated in a Go Game event and I enjoyed it just as much as the first time.
READY TO GET STARTED?
Talk with our sales team